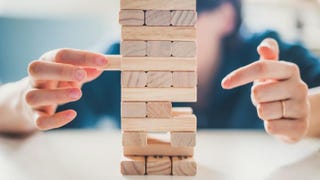 Local eggman Joshua Laurito was recognized by the Guinness Book of World Records today for playing 666 games of Jenga last week, beating the current record. "I didn't eat, I didn't sleep, I just kept on jenga-ing" said Laurito.

Laurito played the majority of games at the New York office of Gizmodo Media Group, where he works. People close to the situation have reported that coworkers of Laurito joined in for the first day or two of games, but quickly tired of it, leaving Laurito to play out hundreds of games alone.
UPDATE: We have received reports that Laurito has been terminated from Gizmodo Media Group, for shunning his responsibilities for a full week to play Jenga in a public setting at his office.
One coworker told us, "Yeah, it got weird. People would come up to ask him work questions, and he'd scream 'LIVE FOR THE JENGA DIE FOR THE JENGA' without ever taking his eyes off the blocks. I honestly don't know why he didn't just take the week off and do it in his own apartment."
Laurito has apparently gained new employment at website creation company SquareSpace.